Another weekend has arrived, and so has another chance to come linkup and readup on all of your favorite homestead, farm, and self-sufficiency related topics, all in one place! In addition to linking up, I'm sharing some of my homeschool preparations to get back in the homeschool spirit! And I'm looking for tips on organizing and planning for the year from you veteran homeschoolers. After all, this is only our second full year teaching at home!
But before I share some photos of my classroom area, I have to take a moment to brag about my son! You may or may not recall, but my oldest son competed in several spelling bees last year, and placed really well! He even placed in an international bee! As you can imagine, his hard work and efforts paid off! And he was beyond excited when he received a medal and a trophy over the summer. Of course, we will be displaying them proudly in our classroom. And what a great reminder of what you can achieve if you try!


As far as a classroom area goes, I have a pretty limited amount of space to work with. Last year, we did our schooling in the kitchen, with desks and a kitchen table and worked in other areas as well. But since the kitchen is the center of everything in our house and can be distracting if the kids are trying to work, I decided to try and dedicate a learning area, away from the activity that can steal their attention from work. Fortunately, we've come across a lot of old, discarded stuff, including some vintage desks, that we've been able to utilize. I've split a room and tried to replicate a miniature classroom, and have plans to try and organize it a bit more, and put up some whiteboards on the walls.


So far, I think it's coming together pretty nicely, aside from walls that are in dire need of repainted. But, alas, it will all get done in time! I found some fun classroom decor at a local dollar store, as well as scoring some items at a thrift store too! The boys have been pretty excited to see me add to the room, and have even found a lot of fun displaying their library books in some displays that I found at a teacher store years ago. I love that the books are displayed facing out, so that the kids can see the covers. It seems to tempt them to read a bit more.


I also dug out some old shelves and have been using them to store their supplies, using baskets and fabric drawers to help keep like items in one place. I'm still debating on how to store their curriculum and books, as well as my teacher's manuals.
Despite creating a classroom for the boys, I still feel it's important to give them the opportunity to learn in different environments. At the same time, I feel like having a dedicated classroom to use sometimes, along with one place to find all of their supplies, will help everyone get (and stay!) organized. Last year was our very first full year of schooling at home; we're still learning what will work for us!
Where do you school your kids? Do you have any great organization or learning tips for me? I"m always open to new ideas!
Now, let's get on with the party, shall we??? This week's favorites:
Congratulations! Please feel free to grab our button and display it proudly on your blog!
Keep scrolling to enter this week's party!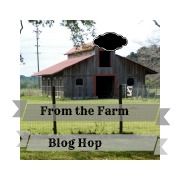 1. Link
up to three
of your best gardening or homesteading tips, farm-themed posts, recipes, homemaking and simple/frugal living tips, decorating ideas, DIY projects, craft ideas, thrifty makeovers or repurposed items, healthy and sustainable living tips, and giveaways. 2. Link back to my blog (using the rel="nofollow" tag), or put the link party button anywhere on your blog or post to share the love. 3. Make sure to check out some of the other links before leaving.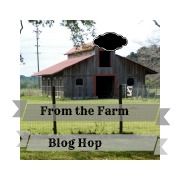 We can't wait to see what you share with us! Note: Linking up to this party will automatically sign you up for an invite to next week's party via email. To unsubscribe, please reply to any email you receive and you will be removed. Linking up also allows us permission to publish one of your photos on our blogs, Facebook, and/or Pinterest pages.
| Urban Overalls |Once Upon A Time in A Bed of Wildflowers |Oh Sweet Mercy