It's another happy Friday and we are all together again, sharing and chattering about our favorite things!
We're finally starting to cut our own hay.
This time last year, we had just moved from a local campground to our property, and cutting our own hay wasn't even an option. With moving and funds for equipment being an issue, we didn't even consider it. This year, we got lucky. We fell into some to-good-to-pass-up kind of deals on some old (really hold) equipment. So, we went for it! And we've been working out butts off to learn as we go. And we've definitely made a lot of mistakes! But, we are moving forward and that's the important thing!
Purchasing old equipment made it possible for us to start cutting our own hay.
As you can imagine, or know from experience, cutting your own hay requires some heavy duty equipment that can be quite pricey. Fortunately, we were able to save up for some new-to-us (but definitely not new) equipment recently. We got a mower, rake, baler, and even a couple old hay wagons. While we're just getting started, we've successfully managed to cut and bale a few hundred square bales. And for those locals that noticed we had an issue and kept dropping loose bales in the field that fell apart – we have good news! My mechanically inclined Hubby was able to troubleshoot and fix the problem! This wife is SO proud! We went from having to stop and fix something every give bales that were successfully done, to no more stopping for nearly 100 bales now! I'm so glad I snagged a man that's good at problem solving.
I've learned that haying is hard work!
And that's especially true if you don't have any equipment to pick up the bales. I learned pretty fast that all the work Hubby puts into lifting those bales only the trailer is no easy feat. Recently, I came home after the front field was baled and the skies threatened us with rain. In under thirty minutes, I helped Hubby drive through the fields (I DO NOT drive, and I drove the truck), picking up bales and tossing them into the trailer so we could get the bales protected from the rain. Did I mention it was the one time I was wearing a nice dress too? In the end, the bales were kept dry, but my back, arms, and just about every other muscle were aching… and I barely lifted anything compared to my husband! Who needs a gym?
Clearing out the hay loft is hard work too!
Hubby and the boys have been clearing out the hay loft in the barn, and it's no easy task to get 1,000+ bales out of there. Especially when they've been sitting up there for years. We did find an easy way to move the hay once it's out of the barn; bale it! We've been bailing it up like crazy! So if you're looking for construction bales, you know who to call!
Do you make your own hay? I'd love any tips you've got for me!
If you've been picked as a favorite in the past, or you get chosen in the future, make sure to come back & grab your button to display proudly! Keep scrolling to enter this week's party!
Now, on to this week's party: 1. Link up to three of your best gardening or homesteading tips, farm-themed posts, recipes, homemaking and simple/frugal living tips, decorating ideas, DIY projects, craft ideas, thrifty makeovers or repurposed items, healthy and sustainable living tips, and giveaways. 2. Link back to my blog (using the rel="nofollow" tag), or put the link party button anywhere on your blog or post to share the love. 3. Make sure to check out some of the other links before leaving.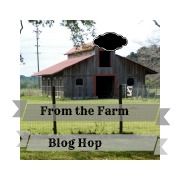 We can't wait to see what you share with us!
Note: Linking up to this party will automatically sign you up for an invite to next week's party via email. To unsubscribe, please reply to any email you receive and you will be removed. Linking up also allows us permission to publish one of your photos on our blogs, Facebook, and/or Pinterest pages.
Warmly, Your From the Farm Blog Hop Co-Hosts:
My Healthy Green Family | Spring Mountain Living | Timber Creek Farm Happy Days Farm| Better Hens and Gardens | Homestead Lady Now on to the linkup!