It's another happy Friday and we are all together again, sharing and chattering about our favorite things!
It's summertime! For me, that means it's time to enjoy the outdoors… while we can! Last year, I learned the hard way, that when winter arrives in the UP, it beds down and stays as long as it can! Since we've been collecting beautiful, sunny days, I've been trying to find fun things that we can do as a family that don't require a cord or batteries. I'll save electronic activities for the winter!
What are some things you can do for fun that get you moving and having fun?
Take a walk. Taking a walk is a great way to get out, look around, and take in the world around you. It doesn't matter if you live in the city or the county, a nice stroll is a great activity. It can be done alone or with the whole family, and you get your body moving at the same time!
Play a pick-up game of… It doesn't matter what sport you enjoy, you can play a pick-up game with a few friends of family members. Keep score to instill some friendly competition, or don't and keep the stress off and just enjoy the game!
Explore a park. Find a local park, trail, or even a city zoo to explore. You'll be able to move your body while enjoying the world around you. Try starting a tradition to explore the same place each year. Your children will look forward to coming back again and again!
Have a treasure hunt. Hide some fun things around your property, or even around your house. Make a list of items, with clues to their location, and challenge your children to find them. Want to make it more fun? Have your children hide some treasures for you too!
Forage, forage, forage. Try going out and foraging together. It's a fantastically fun activity that adults and children can enjoy. If you're cautious to hunt for wild foods, then start by just identifying the plants and trees in your local area so you can get to know your surroundings better.
If you're looking for more activities to try that don't require batters or plugs, give my articles 10 Ways for Kids to Play and Summertime Activities for Kids a read.
What are you doing this summer, to keep yourself moving?

If you've been picked as a favorite in the past, or you get chosen in the future, make sure to come back & grab your button to display proudly! Keep scrolling to enter this week's party!
Now, on to this week's party: 1. Link up to three of your best gardening or homesteading tips, farm-themed posts, recipes, homemaking and simple/frugal living tips, decorating ideas, DIY projects, craft ideas, thrifty makeovers or repurposed items, healthy and sustainable living tips, and giveaways. 2. Link back to my blog (using the rel="nofollow" tag), or put the link party button anywhere on your blog or post to share the love. 3. Make sure to check out some of the other links before leaving.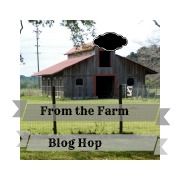 We can't wait to see what you share with us!
Note: Linking up to this party will automatically sign you up for an invite to next week's party via email. To unsubscribe, please reply to any email you receive and you will be removed. Linking up also allows us permission to publish one of your photos on our blogs, Facebook, and/or Pinterest pages.
Warmly, Your From the Farm Blog Hop Co-Hosts:
My Healthy Green Family | Spring Mountain Living | Timber Creek Farm Happy Days Farm|
Better Hens and Gardens | Homestead Lady
Now on to the linkup!