Greetings, friends! And welcome to another Friday edition of From the Farm, where you can find a plethora of farming, do-it-yourself, and self-sufficiency related posts in one, easy to find place. And while you're here, you even get to learn about the benefits of
foraging for wild foods!
Top 10 Benefits of Wild Foods:
1. Wild foods are free. The only cost involved is your time, and perhaps a little gas if foraging away from your home or property.
2. Foods in the wild are pesticide free. As long as you are gathering your foods from areas that are not sprayed with pesticides (roadsides, city parts, chemical laden lawn), your wild edibles will be organic.
3. You get a workout when looking for wild foods. Foraging requires movement; there is no sitting still or being lazy when gathering wild foods. If you don't make an effort, you don't eat!
4. Foraging is a productive hobby. Searching out and identifying foods in the wild can quickly become a fun past time. When time and effort is put in, foraging is a rewarding and productive past time.
5. Foraging exposes you to fresh air. Instead of walking through grocery store isles to find your food, foraging requires you to "get out there." Whether in the city or country, you will have to step outside to find your foods.
6. Less fuel is used when foraging. Instead of purchasing foods that have been transported from different states or even countries, when foraging for food, there is no fuel or transport cost involved (outside of any fuel you personally use to travel to and from locations).
7. Foraging stimulates the mind. When you're out looking for foods, you're forced to use your brain to identify your finds. Over time, you will learn more and more.
8. Foraging for edibles will pay off in a survival situation. If you found yourself hurt or lost in the woods, a knowledge of wild foods can be the difference life and death.
9. Foraging in the wild gives you free medicine. Lots of wild foods have medicinal properties. In addition to finding a new food source, you might be able to add to your medicine cabinet too.
10. Wild foods are fresh! When you pick your own food, it is fresher than any store bought produce item you will find.
Do you eat wild foods? Do you have another great benefit for eating wild foods? Did you know we have an entire section dedicated to wild foods on the blog?




If you've been picked as a favorite in the past, or you get chosen in the future, make sure to come back & grab your button to display proudly! Keep scrolling to enter this week's party!

Now, on to this week's party: 1. Link

up to three

of your best gardening or homesteading tips, farm-themed posts, recipes, homemaking and simple/frugal living tips, decorating ideas, DIY projects, craft ideas, thrifty makeovers or repurposed items, healthy and sustainable living tips, and giveaways. 2. Link back to my blog (using the rel="nofollow" tag), or put the link party button anywhere on your blog or post to share the love. 3. Make sure to check out some of the other links before leaving.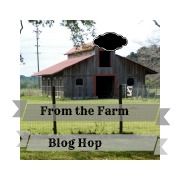 We can't wait to see what you share with us!
Note: Linking up to this party will automatically sign you up for an invite to next week's party via email. To unsubscribe, please reply to any email you receive and you will be removed. Linking up also allows us permission to publish one of your photos on our blogs, Facebook, and/or Pinterest pages.
Warmly, Your From the Farm Blog Hop Co-Hosts:
The Homesteading Hippy
|
Sunny Simple Life
|
The Mind to Homestead
|
My Healthy Green Family
|
Spring Mountain Living
|
Timber Creek Farm
|
Happy Days Farm
|
Better Hens and Gardens
|
Homestead Lady
|