Happy Friday, friends! And thanks for stopping by for another edition of our weekly From the Farm Blog Hop! It's a great time to grab a cup of coffee, sit down a spell, and read up on all things homesteading, DIY, and self-sufficiency related. We've taken all the hard work of searching for new, informative articles and placed them all in one, easy to find place! We hope you find a good read or two (or three, or four…). But before we get to the hop, let's take a minute to talk about creating memories. Since the summer is winding down, I've had a few folks talk to me about creating memories with their children. The biggest obstacle seems to be related to cash flow; taking a vacation to places like theme parks or traveling out of state can be pricey on any budget. So, how can you create a last memories on a budget?
The good news is, you don't have to spend a dime to have fun.
Sure, it's lots of fun to run around Disneyland or play miniature golf. But you don't have to spend money to have fun with your family. There are lots of cost-free options that stimulate smiles all around, and most of them don't even require leaving the house! Before you start searching the internet or asking around for places you can go and do something, try looking around your home or property to see what's readily (and freely) available to you.
Invent a little fun with what's around you! Instead of spending money, why not try to:
Play a board game. Chances are, you've got a handful of board games tucked away in a closet somewhere. Find a family favorite & play together. Start a new tradition of family game night!
Cook a meal together. Chores can be fun too! Simply cooking a meal together, as a family, can create endless giggles, smiles, and memories to cherish forever.
Sing a song! Karaoke is one of my favorite ways to have fun. While I don't hit the bar and belt out my favorite rock songs like I used to, it wouldn't be unusual to find me singing a tune in the middle of the house. Try letting loose, grabbing a "microphone" (spoons and hairbrushes work great!), and sing away!
Have story time. My children love to read, and they also love talk about their favorite stories, poems, and even comics. Give your children the attention they crave by allowing them a chance to present their latest favorite read to you.
Take a funny photo! If you've got a digital camera, you can snap countless photos without the worry of developing costs. Every now and again, my boys love to have goofy photo sessions where I take silly snapshots of them, or we take them all together! Give it a try at your house and the giggles will never quit!
Looking for more frugal ways to have fun while creating memories? Be sure to read my post on 5 Fun and Thrifty Activities!
What do you do to create fun memories without spending money?
Now, let's get on with the party, shall we??? This week's favorites:
Congratulations! Please feel free to grab our button and display it proudly on your blog!
Keep scrolling to enter this week's party!
1. Link up to three of your best gardening or homesteading tips, farm-themed posts, recipes, homemaking and simple/frugal living tips, decorating ideas, DIY projects, craft ideas, thrifty makeovers or repurposed items, healthy and sustainable living tips, and giveaways. 2. Link back to my blog (using the rel="nofollow" tag), or put the link party button anywhere on your blog or post to share the love. 3. Make sure to check out some of the other links before leaving.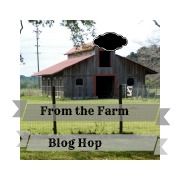 We can't wait to see what you share with us! Note: Linking up to this party will automatically sign you up for an invite to next week's party via email. To unsubscribe, please reply to any email you receive and you will be removed. Linking up also allows us permission to publish one of your photos on our blogs, Facebook, and/or Pinterest pages.
Warmly,Your From the Farm Blog Hop Co-Hosts: