Recently, Trisha and Luke Gilkerson teamed up to write their book, Weeding Out Wheat. In the book, they've addressed several health reasons for ditching wheat as well as what their Christian faith has to say about it. Today, we're talking to the husband and wife team about their experience writing the book, as well as getting to know a little more about them. If you haven't already, be sure to read my review of the book while you're here!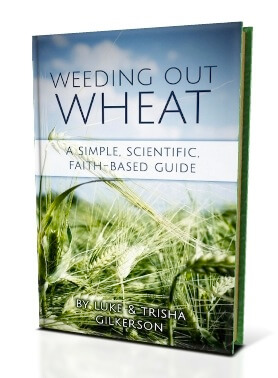 1. What made you decide to write
Weeding Out Wheat
? Was there a specific person or event that spurred the idea?
When our family went wheat-free, we were consistently getting two kinds of questions from friends and online readers: (1) questions revolving around health and nutrition, and (2) questions revolving around theology. Some people really wanted to know the health benefits of cutting out wheat (and some were outright opposed to the idea for supposed health reasons). Some, who were coming from a Christian perspective, wanted to understand how we could reconcile cutting out wheat while still reading a very "bread-filled" Bible.
Trisha had done a lot of reading and research on the nutrition end of things, and Luke had done a lot on the theology end of things. The more we talked about it, the more it felt like this would be a fun collaborative project.
Plus, we hadn't found any resources out there quite like the book we wanted to write: something that defends eliminating wheat from both scientific and theological perspectives.
2. Did you learn anything new while working on the book?
We had done a lot of the research for our own benefit before we ever even thought about writing a book. We researched both the nutritional and Biblical aspects for ourselves as we were deciding whether our family would be going wheat-free. However, in writing the book, we were able to dig even further into many topics, reading even more journal articles and medical opinions. We, of course, learned more details while we were doing this.
3. How long did this project take you, from the daydreaming stage to completion?
The book took us about four months to complete. We were surprised at how quickly it was able to come together. It was able to come together so quickly because the book is really an extension of our personal lives and exploration we had already done.
4. What was it like to collaborate as a husband and wife team and write together? Did you butt heads?
Butt heads? Not too much of that. It was a lot of fun working together on this book. There was a lot of opportunity for collaborative thinking. The first draft of the book looked quite different from the final book.
We each wrote portions of the book separat and then we had to figure out how to fit the pieces together.
5. If there was just one thing that you wanted readers to gain from this book, what would it be?
One thing? Here's the one big takeaway we want readers to have: Eliminating wheat is not only beneficial to your health but also not contradictory to the Christian faith.
6. It's apparent that your faith is an important part of your lives. Did you feel like you were challenging your beliefs by tackling this project?
Personally, the decision to go wheat-free was not something that challenged our Christian beliefs. But we had corresponded with a number of people who felt it was important to eat a "Biblical diet." While we were very familiar with this position, we wanted to correct what we believed were some misapplications of the Bible.
7. Do you have plans to write more books in the future? If so, what can we expect to read about next?
Trisha is putting together a book with some of her favorite wheat-free alternative recipes. She has also been working on a book about sugar and sugar alternatives. Luke has some family Bible studies in the works (to add the ones he's already written).
8. Luke, if you were interviewing Trisha, what is one question you would ask her?
Luke: I would ask her, "What was the most startling thing you learned while doing your research for this book?"
Trisha: Advocates of wheat often talk about the hybridization of wheat as if it's something natural, but the way wheat is hybridized today is anything but natural. The type of hybridization wheat undergoes today is called transgenic hybridization. This is hybridization done by exposing wheat embryos to radiation and/or harsh chemicals. Unlike GMO's, which have gained much attention recently, there are no regulations for transgenic hybridization, and the health impacts are completely unknown.
9. Trisha, if you were interviewing Luke, what is one question you would ask him?
Trisha: I would ask him, "Do you feel this book would offend someone who practices a kosher diet?"
Luke: No, our book shouldn't offend someone who follows a kosher diet. A kosher diet is about the avoidance of animals the Bible calls "unclean." This book does not denounce a kosher diet in the least: one can avoid unclean animals and wheat at the same time. At no point do we try to tackle the question of whether God still commands Christians to avoid unclean animals. That's another topic altogether.
We do, however, challenge some of the rationale behind eating a "Biblical diet." Modern proponents of "eating Biblically" claim one or more of the following: (1) God commanded His people to eat a kosher diet because unclean animals are nutritionally inferior to other foods. (2) The foods with which God plentifully supplied ancient Israel comprise the kind of diet He wants all people to eat for their nutritional benefit. We challenge both of these assumptions in our book.
---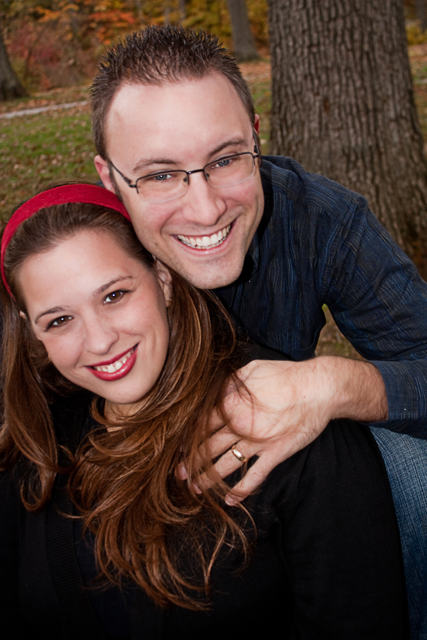 Luke and Trisha Gilkerson are the primary authors behind IntoxicatedOnLife.com, a blog about finding sanity in the midst of homeschooling, raising a Christian family, and healthy living. Luke is the author of Christ in the Commandments and The Heart of Humility, devotional studies designed for families to read together. Trisha is the creator of the Write Through the Bible copywork series, workbooks designed to help kids practice handwriting and Bible memorization at the same time. Weeding Out Wheat is their first book written together. Luke and Trisha are also the proud parents of four crazy boys.